The baggage claim area is often overlooked in the grand scheme of air travel, yet it plays a crucial role as the final touchpoint in a traveler's journey. The baggage claim can be the difference between a seamless transition and a frustrating delay. Airports recognize that this last leg of the travel experience is a crucial component of the overall passenger experience. Across the aviation industry, airports are working to improve the connection between baggage handling and the passenger experience. 
Radiant Technology has developed a cutting-edge system that integrates BHS hardware, data, and digital content management systems (DCMS). This innovation communicates real-time changes from operational staff to passengers in the baggage claim. Here are some key features of the innovative system: 
Our user-friendly BHS touch screens empower ground operations personnel to input flight numbers, change carousel assignments, and manage the unloading process. Operators simply tap the "First Bag" button to activate the baggage carousel. Once the unloading process is complete, the operator taps the "Last Bag" button. Data collected from the BHS touch screens is collected and distributed to operational teams and passenger screens within the airport environment. 
Enhanced Baggage Visibility
Digital Baggage Information Displays (BIDS) and Carousel Baggage Information Displays (cBIDS) provide passengers with real-time access to all updates made by operations teams. Communication from the BHS to the digital screens provides passengers with improved visibility, so travelers can seamlessly navigate to their claim assignments, gather their belongings, and continue their journeys.  
Radiant Director™ is a key DCMS enhancement used with our BHS solution. Director™ allows airline carriers to effortlessly manage content for bag drops at ticketing counters. It also facilitates branding updates and content management for BIDS and cBIDS screens, empowering airline and airport marketing staff to promote brand awareness, update content, and manage creative assets with no impact to the rest of the digital environment. 
Radiant Pulse™monitors every aspect of our BHS system including touch screens, display systems, and data integrity. When an issue is identified, Pulse™ automatically sends a notification email to key stakeholders, so staff can begin the remediation process. Additionally, Pulse™ integrates with airport ITSM systems for automatic ticketing generation.  
Customized and Automated Reporting
Our BHS solution offers reporting capabilities tailored to the unique needs of both the airport and individual airlines. We work with operational teams to customize BHS reports, and we can automate report delivery. BHS reports can be sent to key stakeholders via email, so operational teams can track baggage team KPIs and identify trends to improve the baggage handling experience. 
In conclusion, Radiant Technology's innovative system not only addresses the critical connection between baggage handling and passenger experience but sets a new standard for operational efficiency, communication, and customer satisfaction in the aviation industry. As airports embrace these advancements, the future promises a baggage claim experience that goes beyond expectations, leaving a lasting positive impression on travelers worldwide. If you would like to learn more about how our BHS solution can improve your passenger experience, fill out the form below. 
Connect with our Experts Today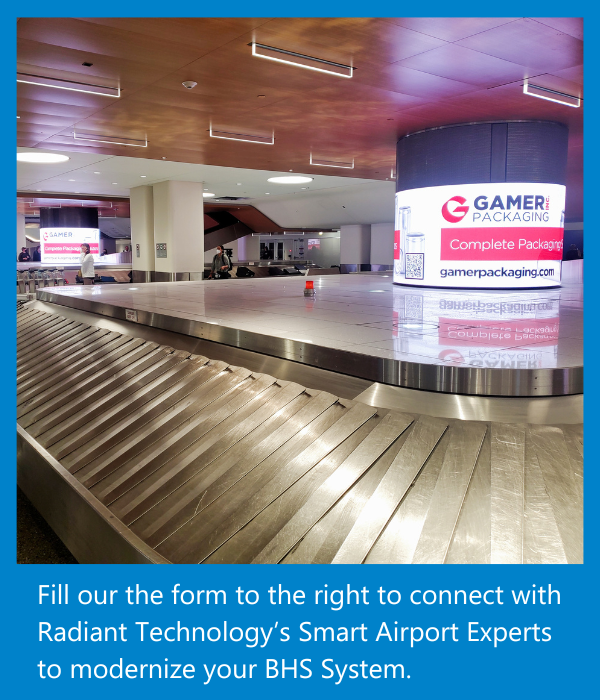 Radiant Technology Headquarters and Experience Center